Understanding Knitting Needle Materials for Beginners
In parts 1 and 2 of this series, the "Ultimate Guide to Knitting Needles for Beginners" I covered Knitting needle sizes and types in depth.
Now, in the final post, I'm going to cover knitting needle materials, the various options available, and how the materials make a difference in your knitting.
To start, knitting needles can be made of many materials, but most commonly bamboo, wood, metal, or plastic.
And, the material your knitting needles are made of will impact both their function as well as their beauty. It will affect how the yarn slides across the knitting needle as you knit, how the needles feel in your hands, and their flexibility and durability.
---
This post contains affiliate links to products I recommend. I receive a small commission (at no additional cost to you) if you click them and make a purchase. Thanks for your support! See my full disclosure here.
---
Why Knitting Needle Materials Matter
Yarn Grip
Most importantly, the materials your knitting needles are made of will affect how they grip the yarn, or allow it to slide across the needles. As a beginner, you'll want needles that have more grip. This means it's less likely that your needles will fall out of your knitting and you're less likely to drop stitches. As you become more comfortable with knitting and want to go faster, the more slippery needles will be easier to manage.
Also, the amount of yarn grip will play a part in your knitting gauge. I have found that the more grip the needles have, the tighter I knit, where slippery needles allow me to knit more loosely. Pay attention to this and make sure to always knit your gauge swatch with the same needles you will use in your finished project.
If you find that you are an impossibly tight or loose knitter you may find it helpful to switch to a different kind of knitting needle until you gain more control.
Strength
As you can imagine, the materials your needles are made of will greatly affect their strength and durability. While some stronger needles may cost a little more upfront, it will be worth it in the long run to invest in trusted brands and quality materials.
Also, keep in mind the care for your needles depends on what they're made of. For example: if your wood needles get wet you can expect them to swell and warp, metal needles that get wet can corrode. Plastic needles left in a car can become brittle with drastic temperature fluctuations.
Whichever type you prefer, I recommend protecting and organizing your needles in a case. There are a huge variety to choose from, and many patterns online if you prefer to sew one yourself. Etsy is an excellent place to find custom hand made cases in many sizes and configurations, like the one below.
Beauty
Many knitters prefer to knit with needles that look attractive and provide a sense of nostalgia. Knitting needles can become treasured family heirlooms when constructed of both durable and attractive materials. So, the beauty of your knitting needles is definitely something to consider.
Other Things to Consider
If you suffer at all from joint pain knitting is one of the most forgiving crafts to take up. Keep in mind that metal needles can be cold to the touch; something to avoid if you have arthritis. Very stiff needles can also be difficult. I've noted below which needles to avoid and which are recommended if this is an issue for you.
Ok, so now that we've covered why your knitting needle materials are important, let's go over each type specifically…
---
Bamboo Knitting Needles
Bamboo is a great option for knitting needles because it is lightweight, strong, beautiful, eco-friendly, and affordable. Because they are not as slippery as other needle choices bamboo makes an excellent choice for beginners.
The surface of these needles has more grip than other materials, creating a slight drag. Bamboo needles can be a little slower, but this is preferable for beginners because it may help prevent dropping stitches.
I personally enjoy bamboo because of how it feels as well as how it looks. I don't mind knitting a little slower, especially when I'm knitting for relaxation. My favorite brand is Clover Takumi bamboo needles. They have nice sharp points and a smooth finish. I go to mybluprint.com for the best prices I've seen online.
---
Wood Knitting Needles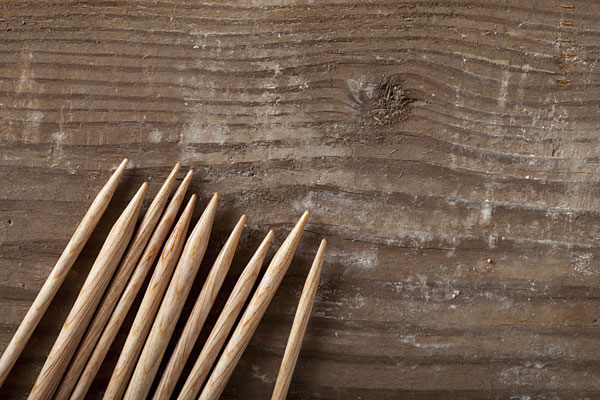 Another favorite knitting needle material among knitters is wood. Almost indistinguishable from bamboo, it feels warm in your hands and looks elegant.
Wood is a little more slippery than bamboo, but only slightly, so wood is still an excellent choice for beginners who can struggle with dropping stitches. Different types of wood used are birch, maple, walnut, cherry, rosewood, or ebony. Birch being the most common and affordable all the way up to ebony, the most desirable and expensive.
Some wooden Knitting needles have hand carved handles, engravings, or fun stoppers. They make a wonderful gift or investment as an heirloom to pass down to your children.
Warning: Be aware that dogs LOVE to chew bamboo and wood needles! Kids can also break the smaller ones fairly easily. So, be sure to keep them out of reach. Don't ask me how I know this, lol.
---
Metal Knitting Needles
For knitters who desire to knit faster, metal is the way to go. They can be made of aluminum, stainless steel, nickel, or nickel plate. The super smooth surface of metal needles allow the yarn to slide across very easily and are a favorite choice of experienced knitters.
Most aluminum needles are hollow, which make them the least expensive of all knitting needles. But, this also means they can easily bend, become scratched, and corrode. Higher quality aluminum needles are anodized to prevent corrosion.
Stainless steel, nickel, and nickel plated knitting needles are much more durable, smoother, stronger, and less prone to corrosion. This higher quality means they are also more expensive. In my opinion, the slightly higher expense is worth it for needles that will last longer.
Lastly, the only drawback to metal knitting needles is that they are cold in your hands and also very inflexible. Something that may bother you if you have pain in your hands or wrists.
---
Plastic Knitting Needles & Other Materials
Plastic Knitting needles can be easily found and come in a huge variety of colors. Their major advantage is that they are warm in your hands and flexible…Just make sure to look out for scratchy edges that can catch and snag your yarn.
Plastic needles come in a large variety of colors as well. Like these amazing vintage dpns I found on Etsy!
After lots of searching, I found the BrySpun brand seems to be the best choice in plastic knitting needles for their quality, functionality, and as a favorite among those with arthritis. The owner of the Etsy shop, Barneswallow Farm, has raving 5 star reviews from people that love these knitting needles. She carries a huge selection from single pointed, dpns, circular needles and even plastic cable needles.
Other Knitting Needle Materials
Finally, knitting needles can also be made of a few other materials; glass, casein, and carbon composite. These are much less common, especially for beginners.
Carbon Composite knitting needles are even stronger than metal, but with a warmer feel. They can come as small as size 0000!
Casein knitting needles are made from a milk protein, which makes them biodegradeable! They are flexible, light, and warm to the touch, making them a great alternative to plastic knitting needles. While this material is natural, be aware that they have a very artificial appearance.
Glass knitting needles? You'd be surprised that these are not only decorative. While obviously more delicate than any other knitting needle, they are able to be used for knitting and are stronger than you might think. Though they are fully functional many knitters enjoy glass needles for decoration only and keep them in a special case.
Other Types of Needles
Cable Needles
Cable needles are special needles that are short and shaped to help keep stitches from falling off. They're used specifically for holding stitches aside to be knit out of order when making cables. They can be made of plastic, metal, and wood/bamboo and shaped in lots of different ways to get the job done.
Yarn / Tapestry / Darning Needles
You can find these blunt tipped sewing needles under any of the above names. While they are not used to make knitting stitches, you will definitely need to have at least one in your knitting kit. Their main use is for seaming and weaving in the ends of your finished project. They can also be used for embroidery, decorative duplicate stitches, and darning/repairs, sewing in a lifeline, or to put stitches on waste yarn as a stitch holder.
Plastic yarn needles are great for kids, or for travel when you need something that's easy to see. Metal is a very nice choice as they tend to be smaller, smoother, and stronger than plastic. I use these Large-Eye Blunt needles from Lion Brand at home. When I'm out I bring my plastic yarn needles in my knitting bag.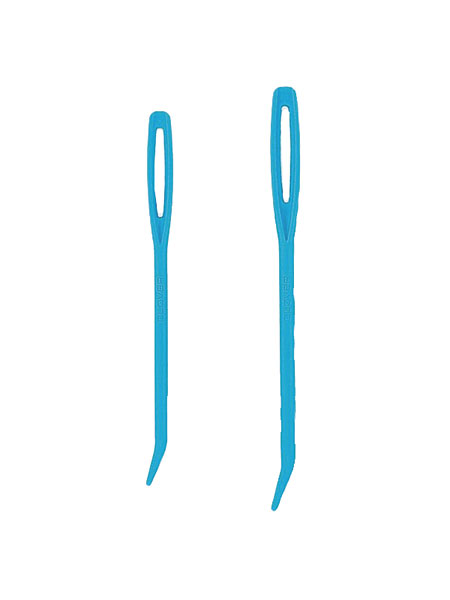 Conclusion:
Now that we've covered the fundamentals of knitting needles, do you have any questions? In this 3 part series, we've discussed knitting needle sizes, types, and materials. I hope all of these posts have helped clarify a lot of the basics.
Don't Miss This!
My Free Resource Library currently features a Learn to Knit Checklist that you can use to track your progress as you gain new skills. Plus a shopping list for essential supplies you can use to shop online, or print and take to your favorite craft store. Sign up below to download.
Navigate to different parts of the series here:
Knitting Needle Materials
Sources:
I'd Love to Hear From You!
I know there's a lot more info about different knitting methods or special knitting tools. What else do you want to learn? Is there something I missed that you really want to know about? Comment below or send me an email. I always answer comments and email in person.
Thank so much for reading!