Understanding Knitting Needle Types for Beginners
Possibly even more confusing than knitting needle sizes are all the different knitting needle types! Which knitting needle type should I get? I have no idea where to start!
Why are some knitting needles connected together? Why are some short and pointy on both sides? Let's take it one at a time and by the end of this post you'll at least have an idea of where to start, and hopefully feel confident to try some needles that used to look out of your league.
This is part 2 of 3 of my "Ultimate Guide to Knitting Needles for Beginners" series. Click below to navigate to each section.
Knitting Needle Types
---
This post contains affiliate links to products I recommend. I receive a small commission (at no additional cost to you) if you click them and make a purchase. Thanks for your support! See my full disclosure here.

---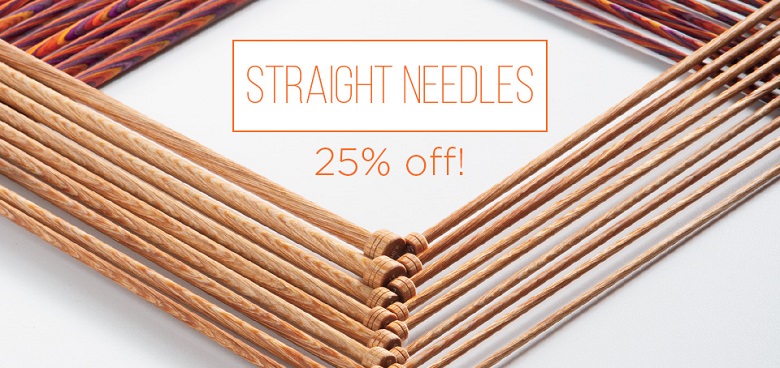 Now, Let's Dive in and Learn About Knitting Needle Types:
Single pointed, double pointed, and circular knitting needles make up the 3 basic types. Each type has different uses and advantages. Let's start with the simplest and most familiar.
Single Pointed or Straight Knitting Needles:
Single pointed, or straight, knitting needles are what most people think of first. Pointed on one end for knitting, and a stopper on the back to prevent your stitches from falling off.
Excellent for beginner knitters, single pointed knitting needles are typically used for knitting flat items like scarves and dishcloths. So, when knitting with single pointed needles you will knit across your project on the front, or right side (rs) and then switch hands, turning the work to knit across the back, or wrong side (ws).
Additionally, you'll need keep track of the right side vs wrong side of your work it is useful to use a stitch marker attached to the right side of your knitting so you don't get mixed up.
You can also change the shape of your project by increasing or decreasing to make things like hats, sweater sleeves, slippers, and many other things. This will usually require you to seam your finished item… like this hat from my Free Beginner Knitting Patterns post, that starts wider and decreases in size as you knit the crown, then the back of the hat is seamed vertically.
Single pointed needles are recommended for beginners because the technique is simple. Once you get the hang of the basics it won't take long to try other types of knitting needles.
Circular Knitting Needles:
Circular knitting needles consist of two knitting needles connected by a cable. This allows the stitches to have more room than on single pointed needles, as they can keep sliding without being bunched up against a stopper.
So, you can still knit back and forth in rows with circular knitting needles. The cable makes them super helpful for knitting blankets or knitting a scarf lengthwise. In fact, many knitters use circular knitting needles exclusively because of this.
Of course, circular knitting needles are also used for knitting in the round. This means you will not be turning your work, but simply knitting around and around as you go.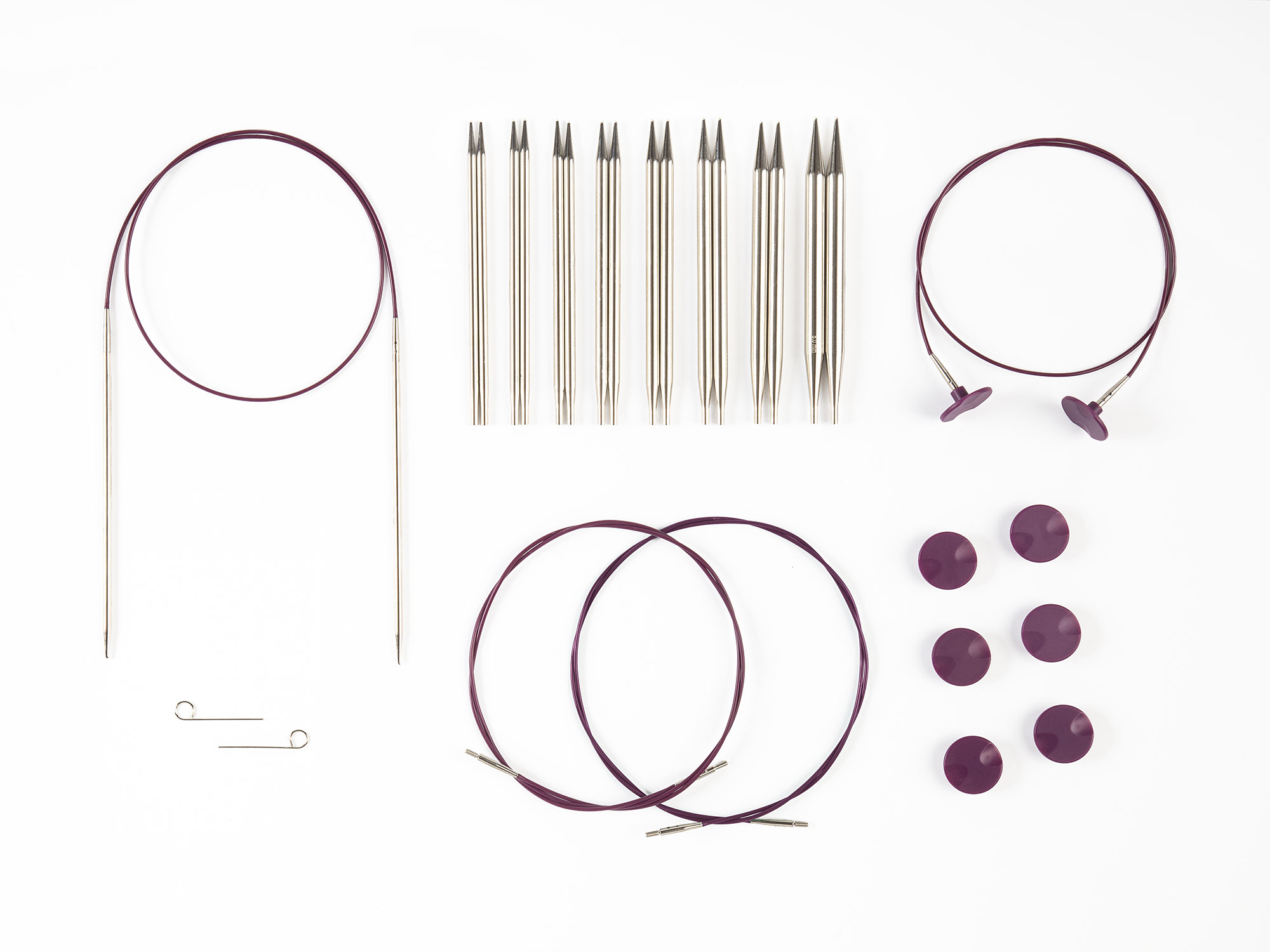 Circular knitting needle lengths are measured from needle tip to needle tip. Typically, the length needs to fit the circumference of your project to allow the stitches to slide around the loop smoothly. Your pattern will specify a length, and it may be different depending on the size you're knitting.
Here are some examples of what can be made with different lengths:
9" circular (not common, but gaining popularity)—socks, sleeves, mittens
16" circular—hats, baby sweaters, small cowl or tube scarf
24" circular—small sweater body, baby blanket, shawl, infinity scarf/cowl
36" circular—larger sweater body, throw blanket, shawl,
47" circular—Large/men's sweaters, blankets,
Also, some circular knitting needles come with shorter tips, making them more maneuverable. Some people prefer these "shorties" and others have a hard time with the smaller size. It all comes down to preference.
Another option when choosing circular needles is the cable type. Coated metal cables are strong and flexible. Plastic or nylon, is a good choice also, the flexibility depends on the brand and materials. I would read reviews and watch out for stiff plastic cables. It really depends on what you prefer and what your budget allows.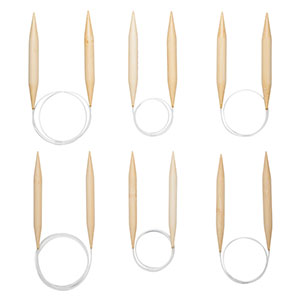 Within this category, we find two different types of circular knitting needles; Fixed and Interchangeable.
Thankfully each option is pretty straightforward…
Fixed Circular Knitting Needles
These knitting needles are connected by a permanently attached cable. They are typically sold individually so you can purchase exactly what you need for your project. Sometimes you'll need more than 1 pair if your pattern calls for 2 different sizes of needles. When shopping you'll want to be sure that the connection is as strong and smooth as possible.
Advantages:
Less risk of connection coming apart
You can purchase them individually, as needed, reducing the upfront cost
Disadvantages:
Must purchase new pairs for each cable length and needle size needed
Interchangeable Circular Knitting Needles
Interchangeable knitting needles are needles that detach and reattach from their cables. The cables screw onto the needle tips, tightened with a key (It's a good idea to check them every once in a while to make sure they're not coming unscrewed). Some even swivel or spin around reducing the chance of coming undone.
They usually come in a set with a variety of cable lengths and needle sizes, which makes them an excellent, multipurpose choice. You can usually configure what you need without having to go buy new needles for every project.
Advantages:
You can leave your work on a spare cable with stoppers and use the same size needles on a different project
You can connect cables together (depending on the set) to make very long cables or a custom size
There is sometimes a little hole where the cable attaches that can be used to thread a lifeline as you knit
Disadvantages:
Costs more upfront
It's possible for them to twist and become detached, dropping stitches
I personally use the Knit Picks Option set above. My only complaint is needing to check the connection periodically to make sure they're not untwisting as I go.
There are also two options (above) that are more expensive, but are considered high quality brands for interchangeables and have great reviews on Amazon. All of these options are an excellent investment for circular knitting needles for the flexibility they allow to change tips and cable lengths alone.
Additionally, There are clever techniques with circulars, like the "two circulars method" and "magic loop" (recommended class here), both of which make it possible to knit a small circumference without having to use double pointed needles, which some knitters like to avoid.
Which brings us to the next needle type…
Double Pointed Needles:


Clover Takumi Bamboo Double Pointed Knitting Needles
Arguably the most intimidating of all the needle types, (and in my opinion the most useful) doube pointed needles (dpns) are made for knitting small circumferences like sleeves, mitten thumbs, toys, and tops of hats. Dpns make it possible to even knit very tiny circumferences consisting of only a few stitches!
Here's a picture of a sweater sleeve l knitted using dpns. See how the three needles form a triangle around the cuff? l used a 4th needle to Knit around the triangle one needle at a time.
Dpns usually come in packs of five and have points on both ends, and are also typically shorter than single pointed needles, from about 4-8″. This helps keep them out of your way while you're knitting.
You will cast on across either 3 or 4 needles, dividing up your stitches between all your needles. Then, join to knit in the round, just as you would with circulars. The main difference is that you're knitting in more of a triangle (with 3 needles) or a square (with 4). Every time you come to a new needle you just move your hands over and knit across, again and again.
Advantages:
Keep track of the beginning of the round without stitch markers
Keep track of the different parts of a project (especially socks) by putting them on different needles, without stitch markers
Knit sock heels, short rows, and icord
Use as substitute for cable needles
Disadvantages:
"Ladders" can form in the space between needles if you're not careful
It's possible to drop stitches off the back of the needle
Some find it less comfortable than circulars
Here's an excellent free pattern for the World's Simplest Mittens by Tin Can Knits. These were actually my 2nd project on dpns and now all my girls have a pair. I absolutely love Tin Can Knits patterns and they have a free beginner series called the Simple Collection that's excellent for beginners.
My first project on dpns was a sock (yes singular, lol, I still haven't finished the second one!) that I made in this class:
Essential Skills for Sock Knitting with Ann Budd, was where l first learned to use dpns. I finally felt confident as a knitter that l could make anything, as long as l take my time and follow each step in the pattern. l go back to this class often to review the techniques and tips she covers. I really can't recommend this class enough.
Currently, they're offering a 7 day free trial when you sign up. But I'm not sure how long that offer will last. A week is plenty of time to learn dpns and decide if the subscription is worth it. The way I look at it for myself is that it costs less than Netflix…for content that's going to help me learn new skills (even to the level of becoming a professional). So, definitely worth it.
Flexible Double Pointed Needles:
A new needle type I haven't tried (but you better believe these are in my Amazon cart) are flexible double pointed knitting needles.They have a little flexible cord in the middle to make them easier to manage and which prevents the needles slipping out of the stitches.
I can imagine these remove most of the frustrations people can have with dpns. If you've tried these let me know how you like them in the comments.
Conclusion:
Whew! That was a lot of info. Before you started knitting I bet you had no idea there were so many different options for knitting needle types. I hope this comprehensive overview will help you feel confident to choose the best needles for your project.
My Free Resource Library currently features a Learn to Knit Checklist that you can use to track your progress as you gain new skills. Plus a shopping list for essential supplies you can use to shop online, or print and take to your favorite craft store. Sign up below to download.
I'd Love to Hear From You!
Now that you're equipped with all this knowledge I want to challenge you to try a pair (or 5) of needles that you've never attempted before. Let me know in the comments what you're going to try.
Or, if you're unsure, share what's still tripping you up with knitting needle options and I'll help you sort it out.
If you have additional questions please send me an email at krista@woolysimple.com. I love getting your emails and answer each one personally!
More in this Series:
Knitting Needle Types
Sources: